RodeoH
RodeoH designs fun, fashionable unisex harnesses, FTM packing underwear, and gender-neutral underwear.
Our goal has always been to create dynamic LGBTQ+ fashion fabulousness! Above all else, we want to inspire people to love and live life on their own terms.
What inspired you to create this brand?
Better sex! Traditional strap-ons have uncomfortable hard plastic buckles/straps and most importantly, they are difficult and time consuming to get into. Imagine your lover is hot and ready for action but has to wait while you fumble (often in the dark) trying to figure out which strap goes where. Well we didn't have to imagine, we'd been there. We knew there had to be a better option and the underwear harness was born!
In 2012, RodeoH was first to market with the new and improved way to "harness" a dildo. Our underwear harness is a hybrid of soft comfortable cotton underwear and the stabilizing O-ring feature of a traditional strap-on. Harness underwear is so much easier - pull it on, get it on, and toss it in the washing machine after!
Has your company changed over the years? Have you expanded what products you offer? what products you offer? What was the reasoning behind the changes?
The most important thing we do as a company is listen to our customers. We have always kept a design board of customer requests and actively incorporate these features into each new design. Our harness line has 100% grown organically based on these requests. We also expanded the website over the years to offer toys and accessories that are compatible with and complimentary to our harnesses (dildos, vibrators, lube, etc.)
When we launched the first RodeoH harnesses, we realized our FTM customers really liked using them for packing as well. There was a need for affordable packing underwear options for the FTM community - so we made them! Over the years we've added new styles and colors and now have a complete FTM underwear and gear section on the website.
We just introduced a brand new line of FTM gear - TRUHK by RodeoH. The TRUHK line is based on more traditional men's sizing and takes the guesswork out of what packer/STP works with what. We try each style on with the most popular soft packers and STPs on the market so the customer knows the best matches before buying.
Over the next year we will be rolling out for our new expanded line of gender-neutral underwear in brief, hot short and boxer styles. Fun, new patterns and color combos made in a super soft bamboo fabric are coming your way.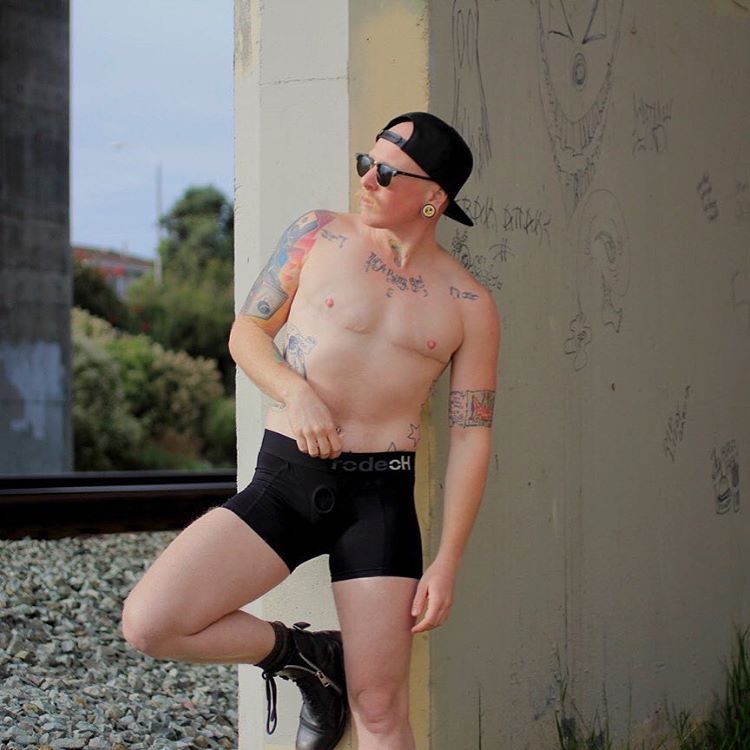 How did you learn to design apparel?
MJ did a short stint in fashion design school but in general we learned through trial and error. RodeoH harnesses may look like regular underwear but they are designed to fit snuggly so the dildo is supported during sex. To achieve this we use heavy weight cotton blend fabrics in multiple layers and source wide supportive waistbands.
We work hard to continually improve the function of the products while still being fashion forward. The design challenge is always finding the right balance of both.
CHECK OUT MORE FROM RODEOH:
IG: @rodeohs
web: rodeoh.com